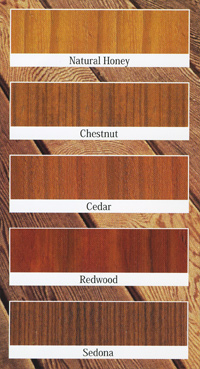 Color Selection
---
On Deck Services has the appropriate deck tinting equipment to match your current deck or enhance the existing color of your home. Dan Stoddard, owner of On Deck Services, custom mixes ALL solid & semi transparent stain color. *Color Consultation and Test Areas are available and recommended. Please remember colors may be affected by porosity lighting and will generally look lighter on your deck than on color cards.
PLEASE NOTE: WE CANNOT BE HELD RESPONSIBLE FOR COLORS THAT MATCH BROCHURE, BUT LOOK LIGHTER WHEN APPLIED.
*Extra Charges May Apply
Unprotected Wood Surfaces
---
Unprotected wood is susceptible to natural degradation caused by seasonal weather and condensation. Rain, melting snow, and morning dew are quickly absorbed by unprotected wood, which results in the softening and swelling of the wood. The sun's heat causes drying, which makes the wood shrink. These cycles of wet and dry, swelling and shrinking, cause wood to warp, split, crack and check- all of which lead to premature wood life and expensive repairs.
Additional Threats:
Mildew & Algae Growth
Rot & Decay
Surface Graying & Degradation from UV Rays
The professional deck cleaners and sealers at On Deck Service, Inc. are committed to deck cleaning, deck sealing, and deck staining services that efficiently reduce common threats to decks and wood. Not only do our services help beautify your deck, but also protect it from inclement weather, mildew and algae, decay, graying, and insect damage. If you're interested in receiving a free quote on your next deck staining project, please Request a Free Estimate today!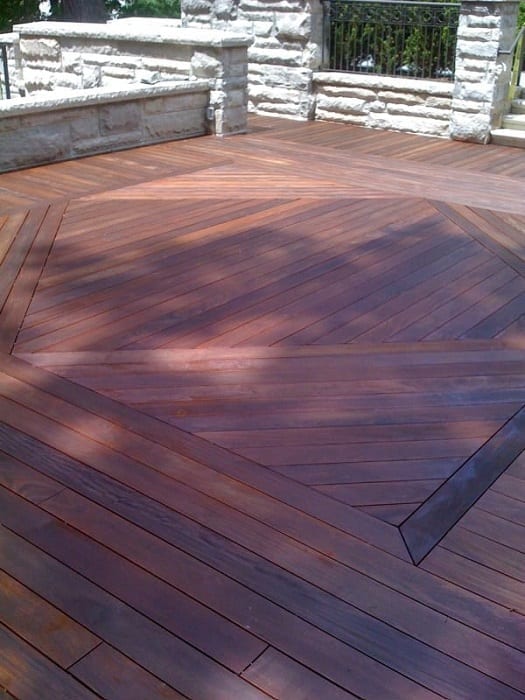 Sealing Process
---
On Deck Service, Inc. adheres to a thorough deck sealing process to ensure our clients have attractive, resilient decks for years to come. Our deck sealing and deck cleaning services are available for Cincinnati and all surrounding communities. Please review our deck sealing process, and Request a Deck Sealing Estimate.
Deck Surface Prep
Prior to deck sealing, On Deck Service's professionally trained staff will:
Remove Furniture
Protect & Cover Work Area
Reset Nails
Sanding is available at extra charges
Supreme – Toner

Sikkens SRD

Recommended for new, slightly weathered decks or exotic hardwoods ( IPE, Mahogany, Massaranduba, Tigerwood)
Translucent Iron Oxide Pigments-Excellent for protection and wood grain clarity
Highly microporous for areas subjected to high moisture
Environmentally Friendly and VOC Compliant
Color selection: Natural, Honey Gold, Chestnut, Cedar, Redwood and Canyon Brown.

Ultimate – Semi-Transparent

Flood Pro Series CWF UV5™

Formulated for Superior Sun and Moisture Protection
Wet Wood Friendly
Environmentally Friendly and VOC Compliant
Delivers Beauty, Durability and Protection against Even the Harshest Environments
Colors: Natural, Honey Gold, Chestnut, Cedar, Redwood and Canyon Brown
1-year unlimited warranty

Extreme Durability

Flood Pro Series Solid Color Wood Finish

Advanced Stain and Sealant in One
Protects Wood From Moisture and Sun Damage
Adds a Rich, Opaque Color
Self-Priming
Environmentally Friendly and VOC Compliant
*Will Not Fill Cracks in the Wood*
1-Year Unlimited Warranty
Free Estimates
Please feel free to call us or email us for a free quote on our superior deck sealing services.